This week has been C-R-A-Z-Y!!! Loving all the outdoors stuff I've been doing with the kids but sadly I've been neglecting my scrapbook space. huhuhuhu! So for now here's one layout to share.....
Chill day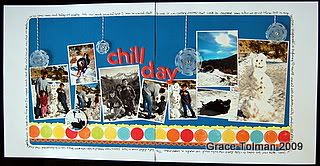 this was inspired by the most recent challenge over at the
Method Playground blog
. Love their challenges. They make me go out of my comfort zone.
Anyways the challenge was to incorporate everyday paper (toilet paper; paper towel; tissue paper; etc) into your scrapbook page. I used wax paper and made it into snowflakes. I love that it's somewhat translucent but heavy enough that it won't rip on me while I make my snowflake cuts.
I wanted it to look like it's floating (kinda like the real thing) but the problem was that foam adhesive shows underneath it. So my solution- I punched out a 1" circle from the same cardstock as my background (blue) adhered the snowflake on the circle with clear adhesive then added foam dots underneath the circle punch for a 3d effect.
I added a punch of color underneath the two page spread so the page don't get too boring with the "snow" colors.