Happy Valentine's day friends! I hope you have a great "hearts" day. I have a day full of activities but before I go out and "spread the love" let me share with you the latest challenge at
IBSIC
...
I love the soft colors on the inspiration board. Oh and those cupcakes are making me feel hungry too. *wink*
and here's my take on the inspiration..
You are so thoughtful card
I used the brown as the background for my card. I love how the dark color made all my lighter colors stand out. I used white as a secondary primary color. It was a great neutral to connect all the colors together.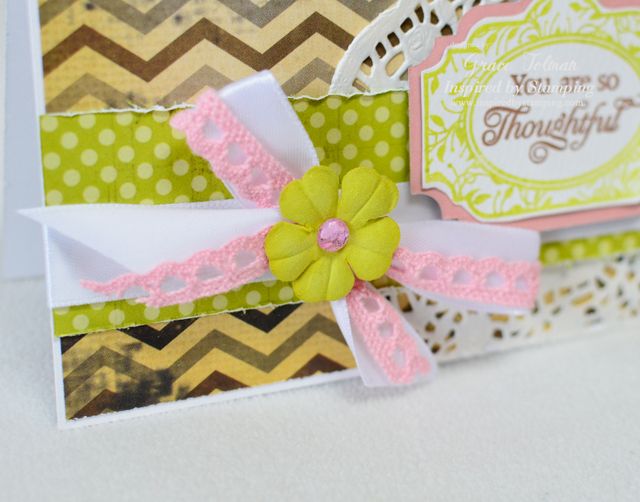 I decided to layer a lace over silk ribbon in this card. The pink lace added some texture to the otherwise plain white ribbon.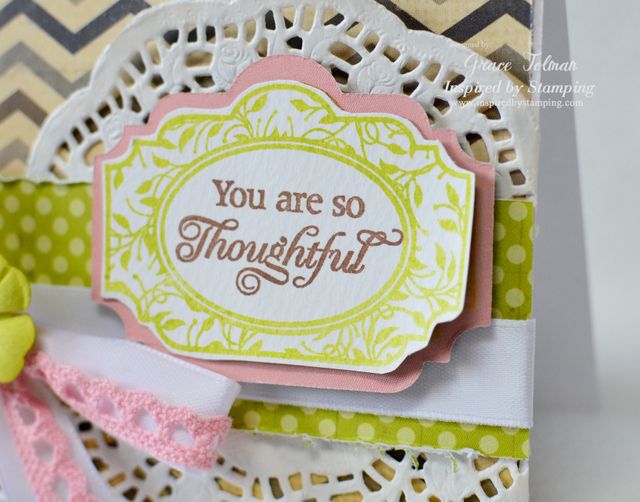 I used some Inspired by Stamping stamps to create my sentiment. I also used IBS die for matting my sentiment block. I added the doile in the back because it reminded me of the sweet cupcake in the inspiration board.
So there you have it. I hope you play along with us this week.
Supplies Used:
Cardstock- (white) Walmart; (pink) WorldWin cardstock
Pattern papers- (brown) Simple Stories; (green dot) Lily Bee Design
Stamps- Small Fancy Labels 1, Inspired by Stamping
Die cut- Fancy Labels 1, Inspired by Stamping
Doile- Target
Ribbon and lace- Source Unknown
Flower- Accent Creative Design
Rhinestone- Doodlebug Design Inc.
Inks- (green) Colorbok (brown) American Crafts
Adhesives- Scrapbook adhesive by 3L, Glue Dots, Creative Memories