Happy Monday everyone and happy President's day for my friends in the US. That means that the kids are off from school today and I'm using their extra hands to clean the house. The kids frowned when I said "our" plans for today but I'm treating them with something yummy at the end. *wink*
Today I'd like to share with you some of my latest projects. I have to say that not being on many design teams have given me the freedom and time to go through my stash of products and create with items that I've been drawn to but haven't had the chance to feature them on my projects because of other commitments. I really feel that my days on being on more than two design teams are a thing in the past. And not that I wanted that to happen but I strongly believe that with any doors closing, comes a new one that will be opened to me. So we shall see.
Anyways onto the projects...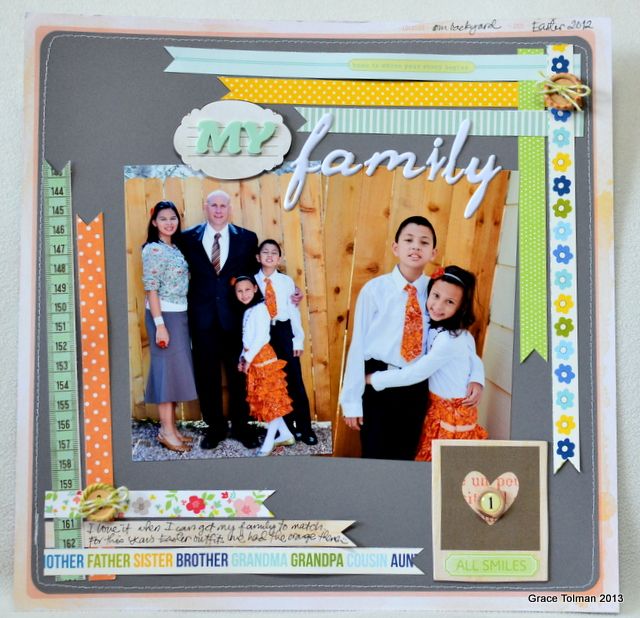 This page was made with one of the challenges at Two Peas in mind. We were to use the paper strips or those tear away little sheets of paper that comes with the paper barcode on the back. I have to say that I've been a big fan of these strips but I have never used so many in one layout. I love how I was able to incorporate a in this page that represented the theme of the layout.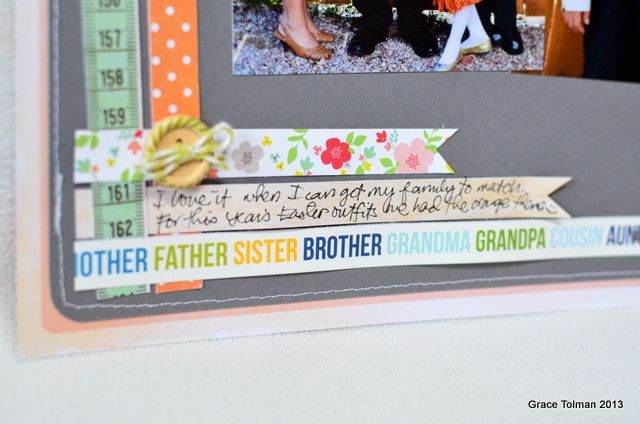 I found that one of the strips had a very muted and simple design that I can place my handwritten journaling on it. I'm also loving the banner/notch cut so I made all of my strips have a side with a notch tip on them.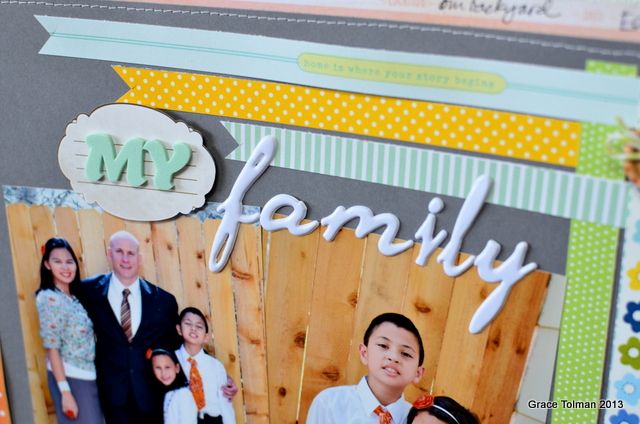 I was afraid that by using a very light green sticker for part of my title, it would get lost against all the bold and dark colors of the papers that are already in my page. So to make it stand out, I placed a journaling block sticker on the page before adhering my letter stickers.
The Sun Shines When You Smile Card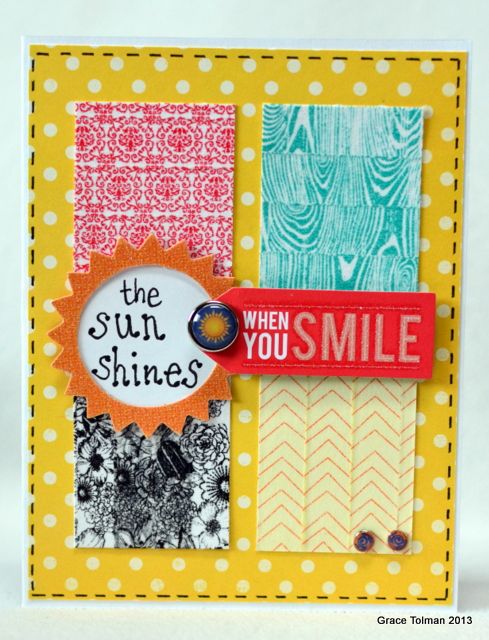 With this card, I wanted to play around with some of my washi tapes. I've been collecting a few of them (they're such a fun trend) and I challenged myself to use up a lot of them in a project. I decided to create small blocks with the tape as the main design element. I cut out four identical blocks from white cardstock and then placed the tape over it. I taped the ends on the back of the cardstock pieces and then adhered them onto the center of my card. I love how we can turn any tape into pattern paper just by adhering them to pieces of white cardstock.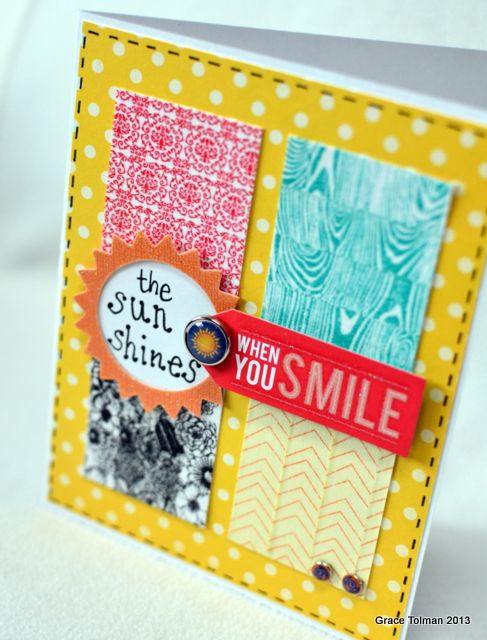 I've had this sun brad for what seems like forever know and I wanted to finally put it to good use so I used it as an inspiration for my sentiment/card title. I found some die cut shapes that worked well with the brad and I placed them in the center so the eye lead directly to the sentiment. I finished it off with some pen stitching around the edges and two more smaller brads on the bottom to create a visual triangle within my project.
So there you have it. My latest projects, unveiled/shared on the blog. I hope this will inspire you to create something beautiful this week.
Till next time,
Grace