Happy Wednesday everyone. Today I'm sharing with you the latest challenge inspiration over at the Inspired by Stamping challenge blog. My favorite color is purple, I even used the lighter hue lavender as my wedding colors so when I saw the color combination in the inspiration board, I was ecstatic. See it for yourself...
and here's my take on the inspiration...
The drapes/curtains in the image also inspired me so I cut the bottoms of my pattern papers into ribbon notches and made them all go vertical kinda like how the curtains where displayed.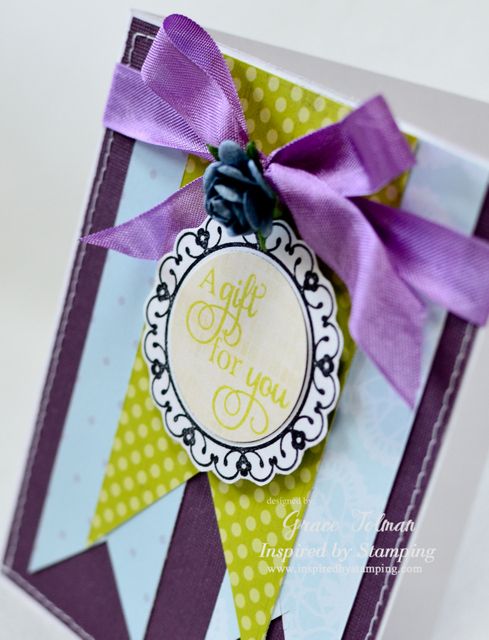 I used this stamp set for the
circles
and this one for the
sentiment
both from Inspired by Stamping on this card.
and as an added bonus, IBSIC is now adding a new monthly challenge to go with the inspiration board challenges. This month we want you to use bows in your projects.
Inspired by Stamping is having a blog hop featuring more prizes!
We will select 2 random winners on the 26th of February. These lovely ladies will win a $25 gift card to the Inspired by Stamping Store.
So if you created a card this week using a bow don't forget to add it to the IBS Bows Challenge!
The blog candy/prize for this week is...
2 Satin or Seam Binding Ribbon of their Choice
Till next time,
Grace