Wow, it's Friday already! I'm counting the days till it's officially winter break. Oh, I can't wait for the laid back schedule and sleeping in. Can you tell I've been a little busy lately that I'm craving the break?
Anyways Wednesday was the infamous 12-12-12 and we survived it! So I guess the Mayan's are incorrect with their prediction. The world hasn't ended yet and that gives me hope. :) Speaking of the 12th, did you participate in our last
Take Twelve challenge
of the year? I hope so. I've considered this challenge to be a precious one to participate in. I've totally sucked with my Project 365 photo project so having 12 images to document my month was a great consolation. It made me feel that I've accomplished a ton and I didn't fail in my photo documentation this year. Oh so good! Thank you
Ella Publishing
for giving us, memory lovers a non stressful way to document our everyday moments.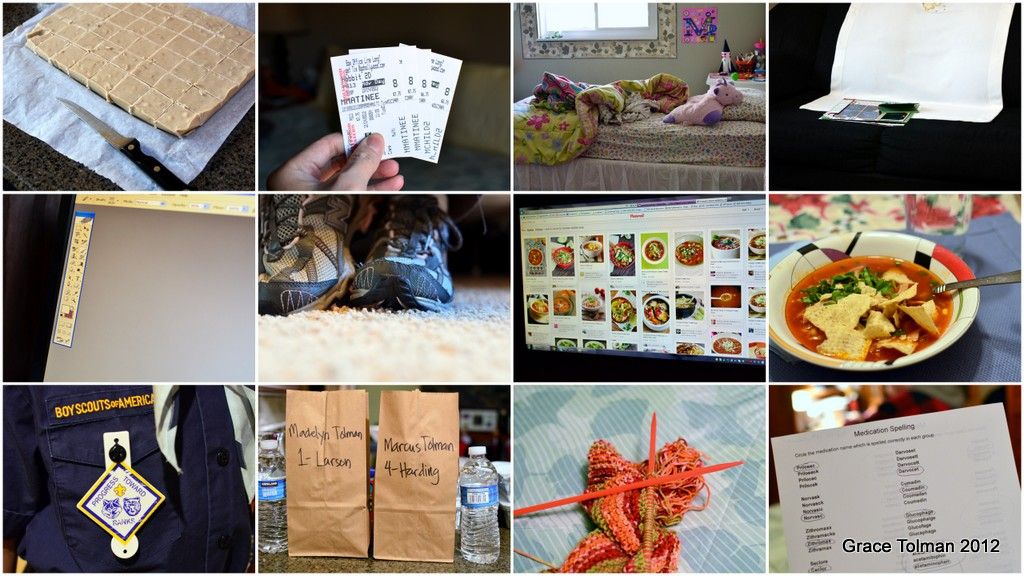 Ok so let's get on to what I did on the 12th of December...
So of course I had totally forgotten to bring out my camera in the beginning of the day so these photos didn't start till lunchtime...
1. Hubby cut into a freshly made batch of Maple Walnut Fudge. I love his perfect squares. We make a great pair of fudge making people. I do the making and he does the cutting. If you've made fudge before you know how hard it gets when it's ready to cut into and I love how my hubby's arm muscles do the work.:)
2. Our family's excited about the new Hobbit movie that we prepurchased our tickets already.
3. Oh my dear daughter never makes her bed in the morning. Sometimes I worry that I'll have a neat freak guy and a slob teenage girl in the home.
4. Taking photos of latest projects finished.
5. Worked on some pictures in photoshop for a client.
6. Did a work out. I'm committed to loose some or at least maintain before the Christmas break so I have some wiggle room to enjoy all the Holiday food and celebrations. :)
7. Searching a recipe for a good Chicken Tortilla Soup for dinner tonight. We have some leftover chicken plus it's been cold lately that it's a perfect night for soup.
8. Found an easy recipe that I didn't have to go out the store and purchase any last minute ingredients. Oh btw, here's the
recipe
I used. Yummy!
9. Went to Cub Scout Pack meeting tonight.
10. Packed the kids' lunch for the following day.
11. I did some knitting while waiting for the kids to get ready for bed.
12. I helped my husband review some of his Medical spelling words for his test yesterday.
So that's it. I hope you enjoyed looking through my life with this challenge and I hope you consider challenging yourself once a month to document your everyday. I'm telling you that it's a very special way of preserving yours and your family's memories.
Till next time,
Grace