Hi friends. Since today's the first day of March, I think it's the best time to take a last look at what my family's been up to in February...
In the beginning of the month we attended Marcus' school Science fair. He got a "participant" ribbon and later on I heard from his Science teacher that he was actively explaining his experiment to the judges of the fair. That's a big deal since this kiddo tends to keep to himself. I'm so proud of him and looking forward to his many more accomplishments in the future.
If you know me or see me on a daily basis, you know that I'm not one to dress up or even put make up on. But once a week, I change up my attitude and I get myself all dolled up for church. I was so happy at how this whole outfit worked well together that I made hubby take a photo of me and my outfit. None of these are new. The dress is from The Limited and was bought four years ago, blue cardigan from Target from two years ago, boots were from Kohl's (another oldie but a goodie) and necklace is from Paparazzi. Can you tell I'm so looking forward to Spring? (Photo taken on the first Sunday of the month)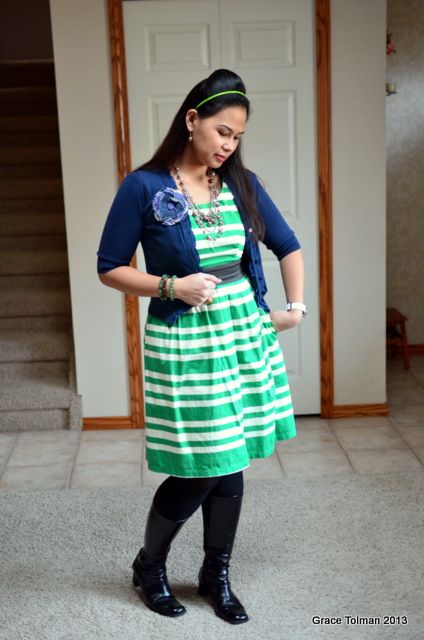 I finally got one of my home projects accomplished this month. I've been wanting to get a "photo wall" done. Mitch took a trip to Denver earlier this month and I had him stop by Ikea to purchase some photo ledges. I love how this system will allow me to switch up the photos/frames whenever I want without having to drill holes on the wall.
This month, our boy scout troop had their annual Blue and Gold dinner. Marcus got his Bear patch and one Gold arrow point during this event as well. We are so proud of him and he was so thrilled when his den leader handed him a necklace with a bear claw. Now he's a full pledged Bear Scout!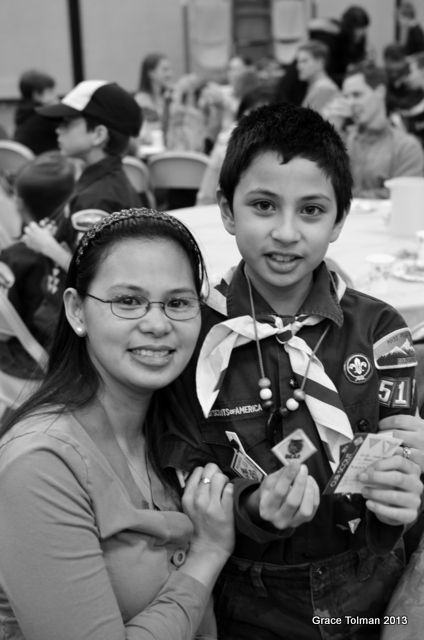 and of course, we had snow this month as well. One was even a record breaking snow fall. The kids enjoyed their snow day building snow forts and tunnels. We tried to make a snow man but it was too powdery for us to make anything turn into a big ball of snow.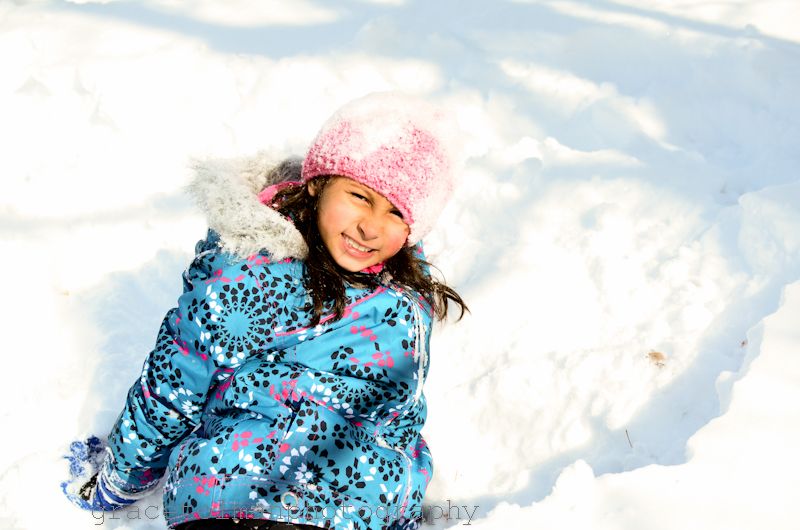 and finally something to make you chuckle...the night of Valentine's day while doing dishes, Marcus calls me from behind and when I turned around he was sporting a weird looking line above his upper lip. At first I thought he had drew on himself and when I questioned him, he said that it was a "mustache" temporary tattoo that he got at school from one of his friends as a Valentine's gift. I started laughing because it looked horrible but he wore it so proudly. He said that when he was putting it on, the whole thing didn't transfer very well on his face. I had to take a picture. He has really grown this past year. In the past, he would never try to put anything on himself that would "change" his appearance. He is one that is hard to convince to "try new things". This is a fantastic sign that he is opening up to possibilities and is becoming more flexible. I'm liking the new and improved Marcus, even if that includes a weird looking temporary mustache on his face. *wink*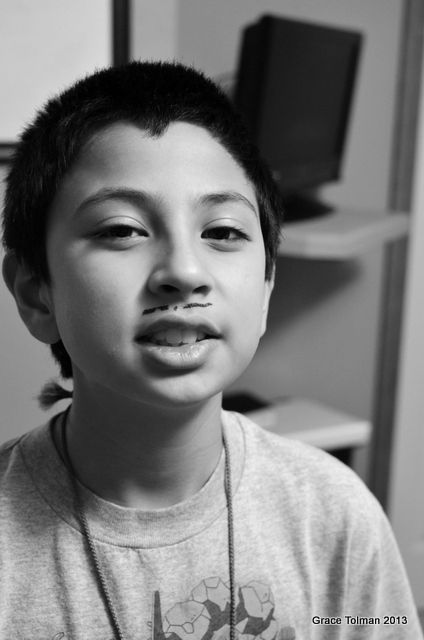 So that's our stories for this month. How about you? What memories did you preserve for the month of February?
Till next time,
Grace