It's finally Friday and I'm so ready for the weekend, if only the weather here can cooperate then it would be the perfect combination. Unfortunately we've been having some weird weather here lately. One day sunny and gorgeous and the next windy, cold and even snow. Yuck! I'm so ready for Spring.
The one thing I'm happy about the cold weather is that I'm still able to sport my new knitted cowl. One of my crafty pursuits is knitting. I still consider myself as a beginner and have not graduated from the "knitting" stitch but I use this craft to unwind and de-stress. It helps me relax and although I wish I have more time to devote to learning more about it, for now I'm happy that every so often, I get to pick up my knitting needles, yarn and create something one-of-a-kind.
So with the projects I've made, most of them have been scarves for me and/or my kids. It's the easiest to create cause it's basically just a long rectangle. I wanted to stay on the "simple" side but wanted a different version of a scarf so I went with a cowl. I googled a few tutorials on how to make it and ended up with my own "pattern". I started with a size 13 needle and 2 skeins of soft yarn (purchased at Hobby Lobby), casted on 55 stitches and knitted it all the way till I used up both skeins. I left a few yarn at the end so I can use it to stitch up the top and bottom part of the "scarf" to create my cowl or a big "o".
Here's some pictures of the result....
and two more ways I found that I can wear the cowl...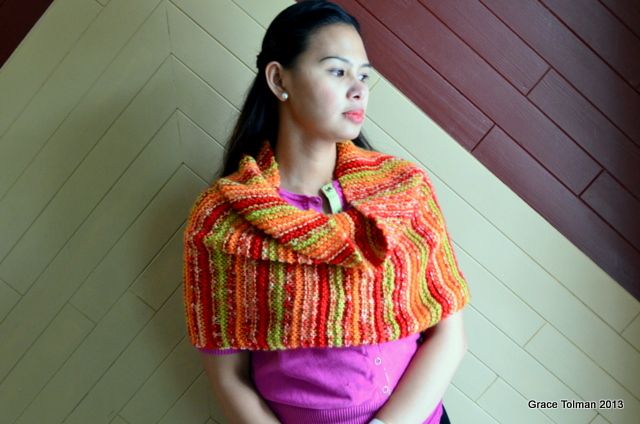 I can even clip a flower to add some more interest to the scarf...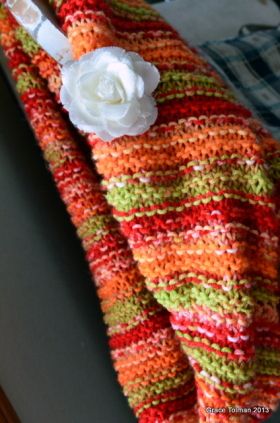 so there you have it. Easy peasy and totally doable. To see more of my latest "yarn" projects that I've pinned, you can always go
here
.
How about you...what's your favorite hobby/craft to de-stress or unwind with?
Have a great weekend.
Till next time,
Grace