Hi friends. I'm sure you are awaiting my latest video tutorial but I'm sorry to tell you that I will not be sharing any videos this week. I had a book report that I had to write for school last week and I was also busy getting stuff done so I can enjoy this week with my family since the kiddos are on Spring break that I just didn't have the time to create a video. Sorry about that. But I promise that we will resume the video tutorials again next week.
So for now let me share with you some latest layouts that I made (just for me). I chose to work on this memories as I'm getting a bit tired of the long winter we're having here. I'm longing for some warmer weather.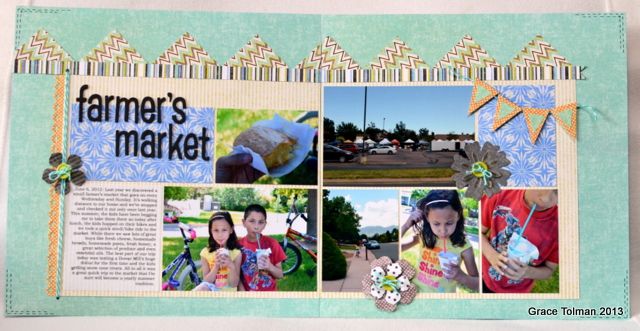 We found out that during the summer months, there's a farmer's market set up near our home. It's walking distance. These photos are from a day that we walked to the market.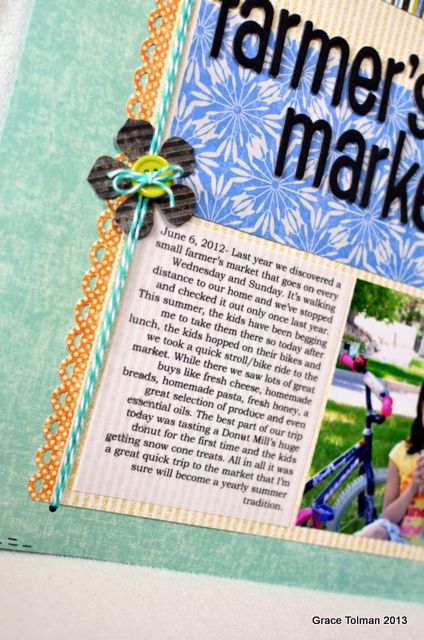 I used a whole collection (SEI) to make this page. I love using kits or collections for projects because all of the work of making sure everything goes together has been done for me. It makes creating faster and more efficient. This collection had die cut flowers which I love because I have instant embellishments that matches perfectly with my papers.
I love the triangle trend that's going on right now. In this page, I made my own pennant/banner with a few cuts of the paper and some triangle stickers. I finished it off with some twine behind it and adhered it to my page with foam adhesive.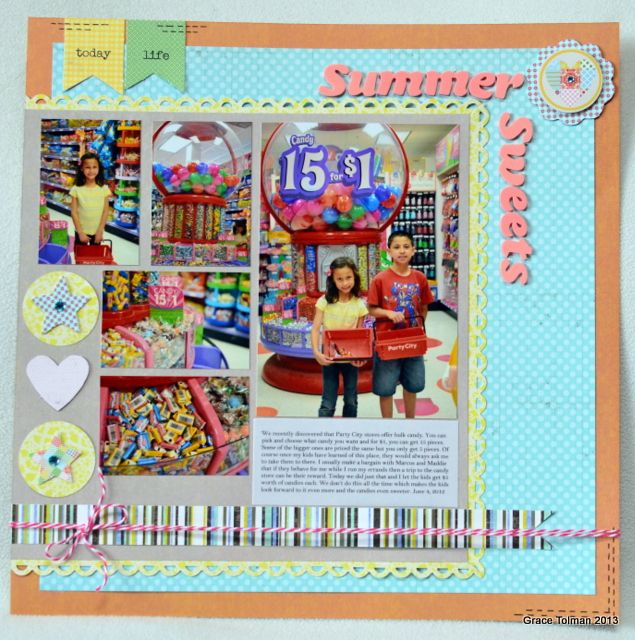 It's very dangerous for me and the kids to know that Party City now sells candy in bulk. Especially when they price these candies for 15 for $1. Now every time we go out, the kids would always ask if we can swing by Party City. Sometimes we do and I use it as a bribery so they can be good for me especially when I'm running errands. These pictures were taken from one of those "reward" trips.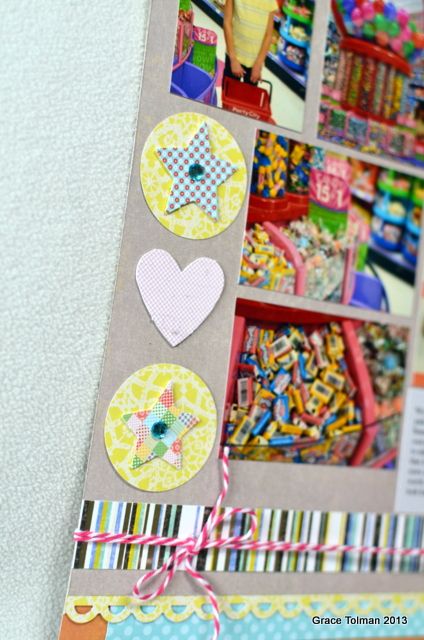 I will never get tired of using die cut shapes. They're even better layered on top of each other.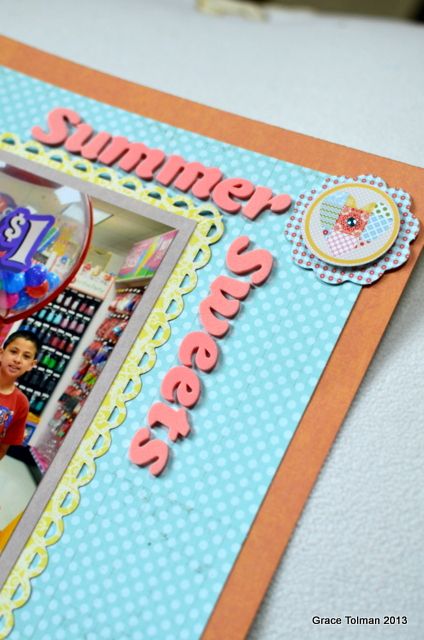 I wanted my title to have some kind of movement so I placed the words on the corner and set it so that one of the words go down. It's always great to experiment with your title placements. You'll never know what unique way you can come up with.
So that's it. I hope you have a great start to your crafting week.
Till next time,
Grace