Hello there friends. Lately I've been finding myself longing for lazy days so I can spend all of it in my "cave" aka scrapbook room as my husband calls it. I know that I'm not alone in saying that the Fall season and all the holidays/traditions/schedule that comes with it leaves us with not much time to create. But thankfully I do get a little pocket here and there to scrapbook and I'm taking advantage of every second of it. For me scrapbooking is better than therapy! *wink*
So with that I'm going to share with you two layouts I made...just for me! There were no assignments or deadlines associated with them and I got to use a new paper line (Fair Skies) from a company that I just head about recently...
Farmhouse
.
The paper line had a vintage feel to it so I pulled out photos, and othe scrapbook products in my stash that I thought would complement the papers the best. In this one, I documented photos of a train on display at a local park. We visited this park during our early months here in the Springs in one of our Saturday Excursions, remember those?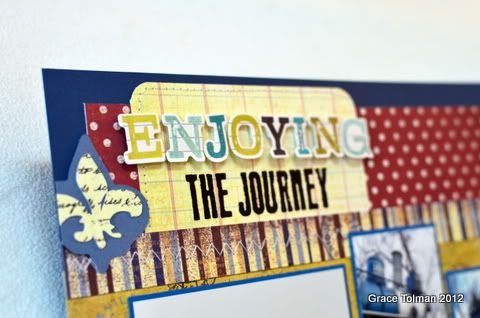 I used some travel rubons from Creative Imaginations in this page to match the Train photos. I used my Cricut machine in creating my border. I had made three cuts of the border so it will spread across my entire page and then I cut the extra off and added it to the top by my title. I didn't want to waste that extra piece. :)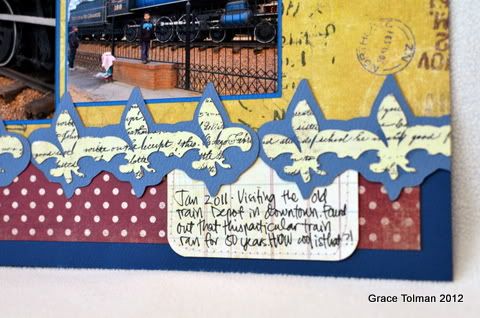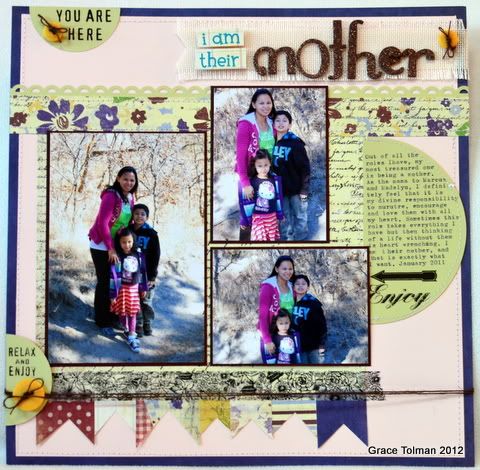 In this one I documented how being a mother is so important to me. I used pictures from a hike we did in early 2011 to support my story. I still used the Fair skies papers and Travel rubons in this page. Although my page is not a travel theme one, I think the words match how Motherhood is a journey to me.
I love how the twine and burlap trim added texture to the page and the "earthy" tones match up the "nature" background of my photos.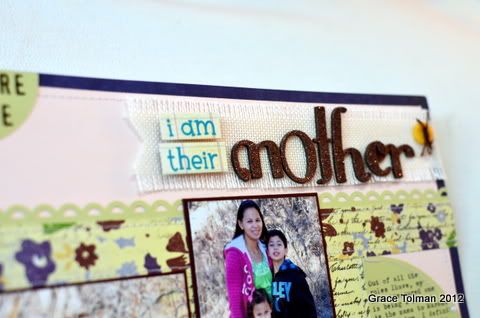 So that's my share today. Thanks for stopping by and I hope you can find some pockets of creative time this week.
till next time,
Grace