Hi all and Happy Friday. Today I want to start a 3-day tutorial post.
Glue Arts
is participating in this big Handmade Holiday hop. It's pretty neat and a ton of companies are participating. I've made this project set for Glue Arts part of the hop and I decided to add some how to photos and instructions here in my blog for my wonderful blog readers. *wink*
But because this set contained a TON of photos, I decided to break it down into three days. What could be better than three consecutive days of fun tutorials?! So the first one is for the tall container in the middle of the pictured set...
With a handmade paper bow on top.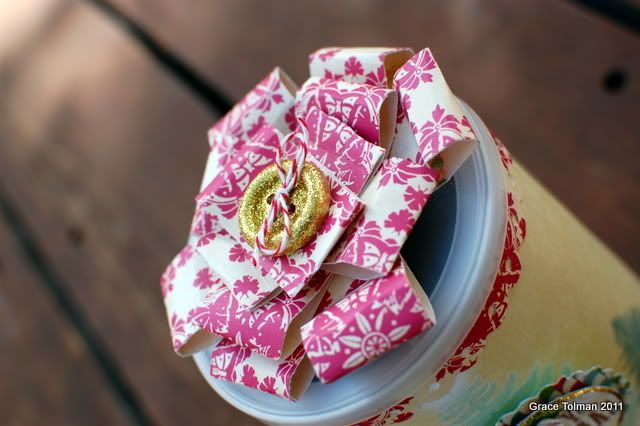 So here's the instructions...
1. Measure the length and width of your altered tin container (mine was a recycled bread crumbs container. NOTE: Make sure you wash recycled containers very well before altering especially if you're going to be adding food products in it.
Cut a piece of pattern paper to match your measurements and adhere to the can. I used some extreme squares for this project so it'll hold well. I think you can use glue gun on this one too but you might have bumps under the paper because of the dried glue.
2. Add a thin ribbon/trim for the bottom edge of the tin can.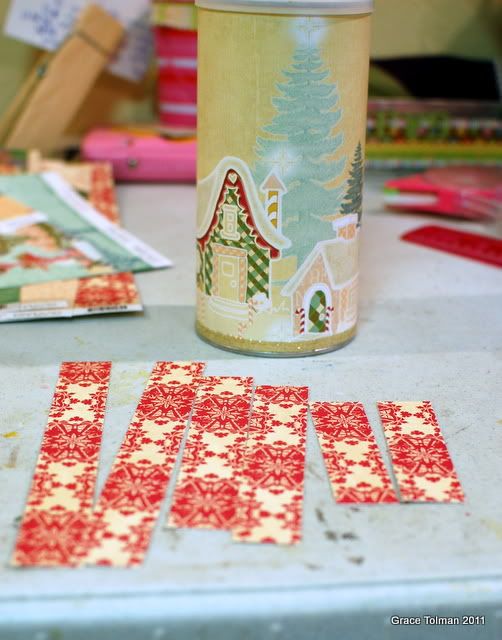 3. Cut 1" strips from pattern paper and cut them in four varigating sizes (two for each size) Mine had about 1 1/2" difference between the strips having the smallest be 3" long and the larges is 8". Set aside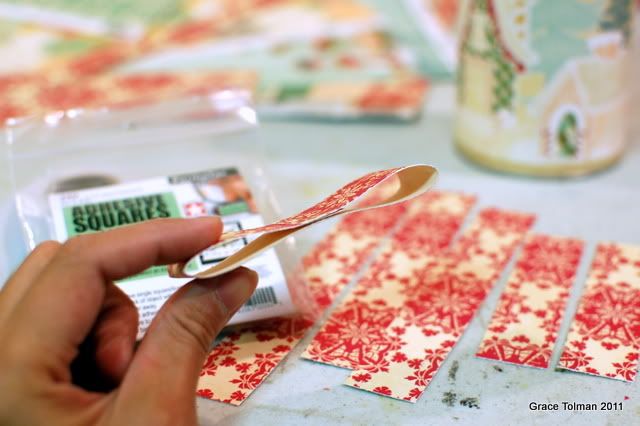 4. Fold the paper strips and adhere ends together. Add another adhesive dot to the center to create a bow.
5. Layer the bows on top of each other. Adhere the centers and use a pen or paper piercer to open up the bows ends.
6. Add a glittered button threaded with red baker's twine and add to the top of the can.
7. Stamp a greeting onto pattern paper.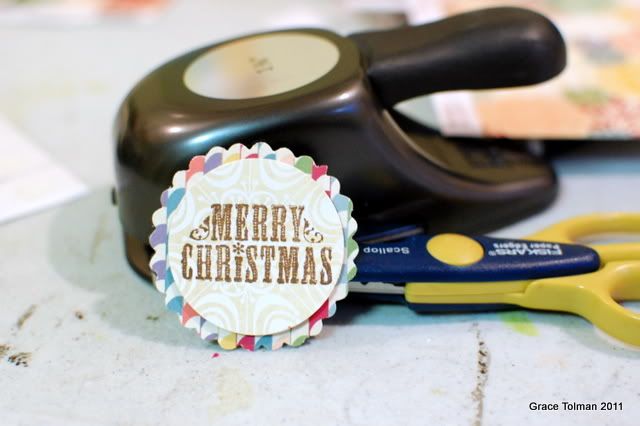 8. Punch out the sentiment with 1 3/4" circle punch. Layer this piece onto pattern paper and trim the edge with scallop scissor.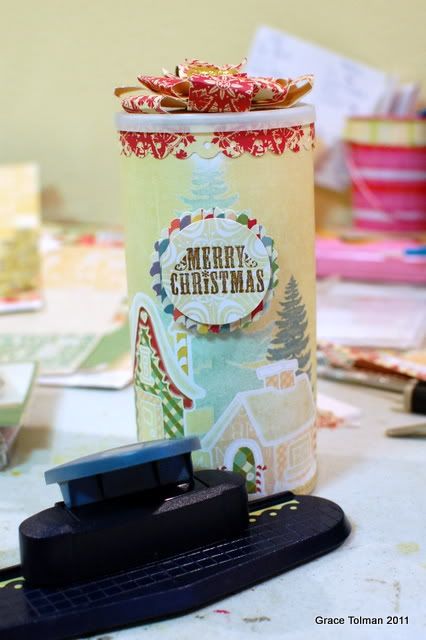 9. I decided to add a scalloped border onto the top edge of the tin using pattern paper and Fiskars border punch.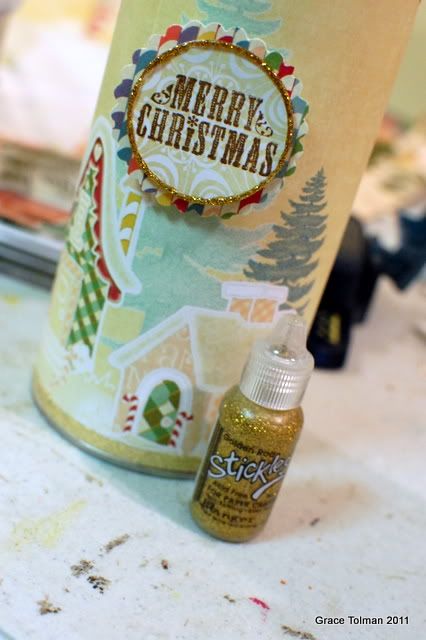 10. Lastly, add some Glitter glue around the edge of the sentiment paper for that added Holiday "shine" on your project. Let it dry completely then fill up with your favorite Holiday candies or cookies and deliver to friend and family.
Thanks for stopping by. Make sure you check out the
Glue Arts blog
today to see who's participating in this blog hop and come by tomorrow to see how I made the other containers in this set.
Till next time,
Grace