I would have to say that I do a lot of things for the kids. I help them with their homeworks and special reports. I'm a party planner for them, sometimes a taxi driver and even a cook/chef. But one thing I can't and probably will never help my son with is creating his car for Pinewood Derby. That type of "thing" is something I reserve for my dear hubby and this year I'm so glad that he took on the challenge and helped Marcus create a cool looking truck that was a great improvement over all from last year's car.
Last Saturday, Marcus got to race his cool truck and here are some pictures from that event...
Mitch let Marcus draw out the type of car/vehicle he wanted and Marcus chose a truck. After a quite dismal finish from the races last year and getting some tips from fellow Pinewood Derby "fathers", Mitch got to work in building the car. He worked on it for a whole week and we even bought a scale so we can be sure that it was right on the money as far as weight. Mitch didn't want to spare any details.
The picture above is where Marcus' car fell in the line up of cars to race. The orange one next to him would be the over all winner and by the looks of that vehicle, we are leaning towards a leaner/flat car for next year's race.
Here are some photos of the first heat of the race for Marcus. He was able to do three rounds in the first heat, getting one 3rd place and two 2nd place finish.
During the second heat, he won all of his races which made him really happy and proud. The sad thing was that mom was chatting away and didn't even know Marcus was racing till it was all done (bad mom!) So to compensate I had Marcus show me two thumbs up and took this shot. He was still beaming with excitement and joy at this time so I'm glad I captured that part. :)
And here are my two awesome guys. It was definitely a group effort and I'm happy for both of them. Side story...Mitch was really getting into this and was equally proud of Marcus' car. He even got a little too proud when, as we were coming out from the car to go into the derby, he asked "where's MY car." I think it's kinda funny how fathers get into these things as much, if not more than their sons.
And after the race, Marcus placed 9th (middle rank overall) and he got an award for "best workmanship"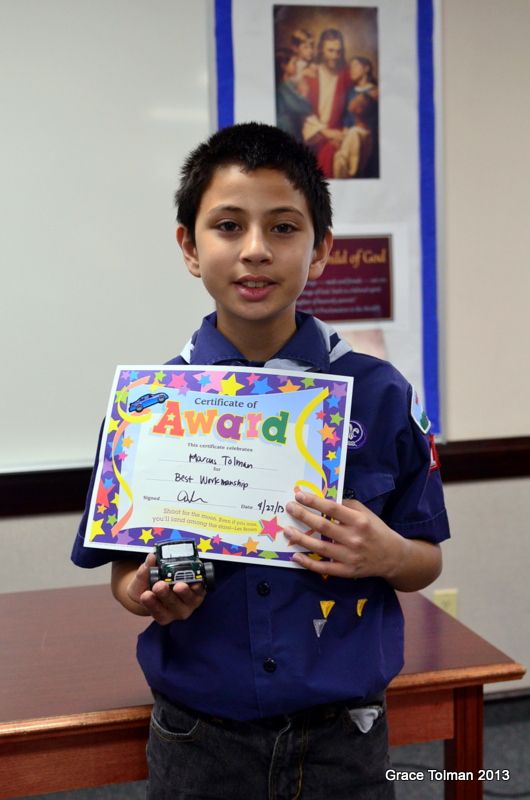 It was definitely a great day for racing and for some father-son bonding.
Till next time,
Grace