Hi there my friends. Today I've decided to share with you some layouts about my son and update those that are following our "journey" to figuring out how to help him with his ADHD. Just before we left for our California trip, I had a meeting with some professionals regarding a battery of tests that Marcus had to go through for his sensory issues. The results was mostly things that I've already known but one thing that the physician did mention that threw me off for a few days was that he can really see Marcus having mild asperger as well.
I knew that he was, in some way, in the Autism spectrum but I wasn't sure where he really falls. Now the physician's comments were not an official diagnosis as the specific clinic we went to doesn't do that but being that the doctor sees kiddos like Marcus all the time, I highly value his opinion.
At first it was a hard pill to swallow to know that we are now dealing with two things-ADHD and Mild Asperger! As if the ADHD wasn't hard enough, now I have to start researching on Asperger and see what I can do to help my son. The good side to this though is after the doctor mentioned the issue, everything that Marcus has done in the past made sense and that I truly believe that this condition, even if it's not an official diagnosis answers a lot of the struggles my son has.
But I cannot really wallow in my challenges especially after all the kind words left by friends and family on facebook after I've mentioned it there. It's a comforting thought to know that many people out there are sincerely praying for my son's well being and believes that we, as a family, can overcome the challenges ahead of us. I feel so blessed to be surrounded by "angels" and for that I am determined and have the courage to "fight this fight", whatever that might entail!
So with that,I leave you with two pages I made recently for my son. A proof that scrapbooking is not just a hobby but a way for me to let my children know how special they are to me. :)
I did a short photo session with my son right after his birthday last year. In this layout, I scrapbooked my favorites from that session along with a journaling of 9 things that Marcus was into at 9 years old.
Blues, greens and oranges dominated my page to give the layout a masculine feel. I also added stars and banner for the celebratory theme of the page.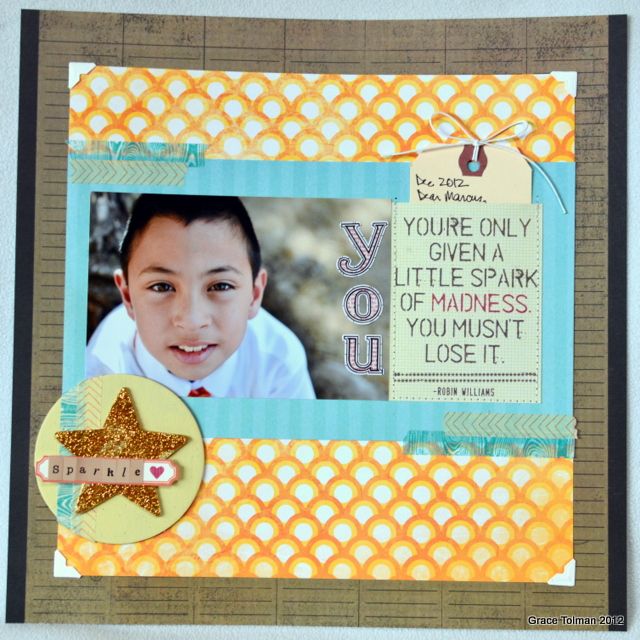 This page was inspired by the quote from Robin Williams. I used it as a pocket for my handwritten journaling in which I declared my belief in Marcus' potential despite the challenges he has to face. I also added a chipboard star which I covered with glitter to emphasize the "sparkle" theme.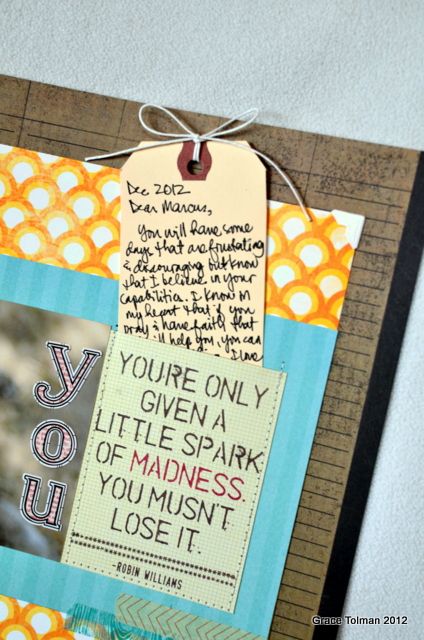 Till next time,
Grace