Happy Monday everyone! So glad you came by today and I hope you leave here feeling like you've gained some new inspirations.
So for today's share, I'd like to showcase some new layouts I've made recently. Part of my "simplifying" goal is to go back to basics. That means to go back to what I have loved most about papercrafting and that is challenges. I crave for them. They make me push out of my comfort zone and try something new.
Lately I've been finding myself enjoying the challenges at
2Peas
. I especially love watching the videos of the garden girls and how they put their challenge examples together. I don't know about you, but I love seeing other artists' process. It gives me an insight on how and why they create plus it usually gives me a new trick or tip that I've never thought of before.
So anyways, without any more babble from me here are two pages that I've made through participating with the challenges...
Birthday Shopping
The challenge that was given was to use our wood veneer stash. Now I don't have a lot of those but I did remember the Studio Calico banners that I had received through a design team work about a year ago. In this page, I painted them hot pink so they can stand out against all my neautral and light colored paper. I used four of them as a banner, adding a stamped flower in the center for added design. And then I used two as a little ribbon notch behind my flower.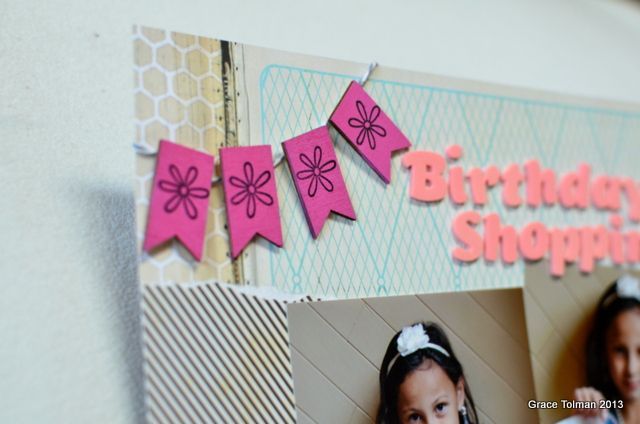 this page was about the things that my daugther bought from her birthday money. Can you believe these photos are from 2011? This just shows you that the phrase "caught up" doesn't exist in my scrapbooking life. I'm always a year or two behind.....and that doesn't bother me. :)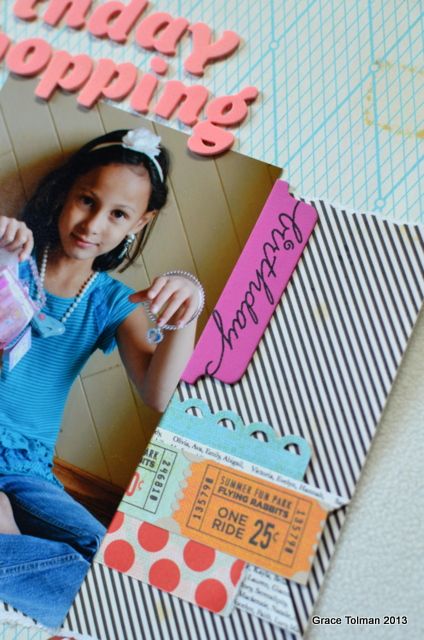 To create a visual triangle in this page, I painted a chipboard tab the same hot pink color and added that to the page.
So-Cal Food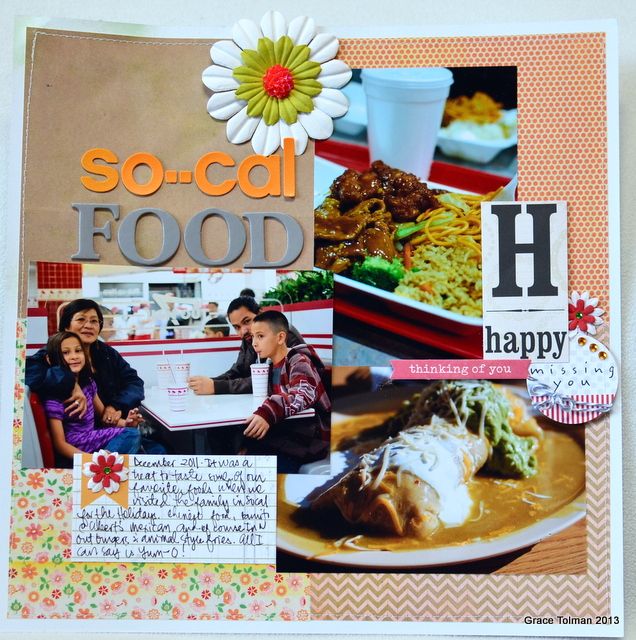 The challenge that was issued for us in this one was to create a layout and a card using the same products and incorporating the same design on both projects. This layout is a sampling of the yummy food that I always crave for when I think about southern California food. There's just certain dishes that tastes better there.
I love creating collages of products in my layouts. With this one, I incorporated a sticker, stamp (missing you), flower, cut out papers and twine. All of my favorite things right now.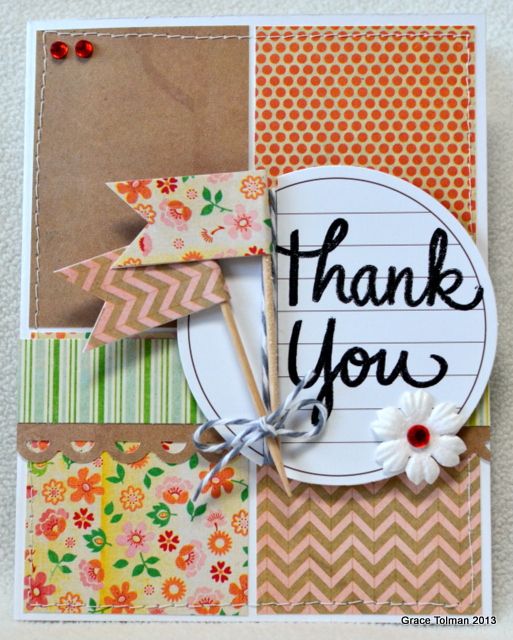 and this is the accompanying card. I used the same block design that I used in the background of my layout. I used a circle accent and some rhinestones and flowers as well. One of the things I'm inlove with right now is the flag/pennant trend. I just love sticking these fun embellishments in my project as it evokes happy, celebratory feeling to any project. I love making my own by using the same papers that I've used in the background. This makes everything coordinated.
So that's my share today. What is/are your scrapbook goals this year? Get caught up? Join challenges? Learn new techniques? I'm curious to know.
Till next time,
Grace